Who said a rebound guy was a good and perfect solution ? I said fuck off to those people. That's the worse solution ever. Trust me. I met Baptiste when I came here this summer. He looks like Prince Charming (well maybe less handsome I must say). He is nice, great... whatever. But the only thing I think about is that "he is not him". What do I mean ? Isn't it clear ? He is not the one I've been looking for for years. The one I found and lost. For God's sake, I should stop torturing myself and enjoy the time with Baptiste. Let's see:
For:
- He is cute. I try to make him cut his hair cause I don't like it like that but still he is gorgeous.
- He is nice. And it's a good quality, isnt' it ?
- He is attentive with me in every little details.
- He is smart or that's what everyone says. And he's got a job. A good one I may add.
- We are more than perfect to each other according to some friends.
- He is serious and mature. Probably cause he is almost 30.
- He is a good kisser. I don't wanna sound superficial but that detail matters more than some others. You can be with someone you don't like to kiss, it's maths !
- He loves me.
Against:
- I know someone cutter.
- He is too nice with me sometimes it's unbearable.
- He's got a job, I am a student who doesn't know what to do next year. I live a day at a time.
- I don't really see myself in a lifetime with him.
- He is 8 years older.
- Despite the fact he is an very good kisser, I don't feel the butterflies everytime we kiss.
- I like him.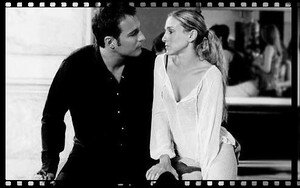 Should I consider him a bit more just because everybody told me to do so ?
Should I stop thinking about those butterflies ? Should I move on now ?
Should I give him a chance ?
And if Carrie chose Aidan instead of Mister Big ?
And if my Mr Big wasn't the one I thought ?